Actual knitting & crocheting content!
I know, try not to faint. I've been trying to use stash yarn and finish up some project that have been lingering in bags. Using up leftover yarn from
my first Clapotis
, I made a baby dress. But I don't have a baby, right? Some time ago I found my childhood babydoll, Crissy, on eBay for a pretty decent deal. I HAD to have her. You see, I adored that doll when I was a kid. I played with her for hours everyday. My mother broke my heart when she gave her away. She came to me naked, so she needed a dress, right?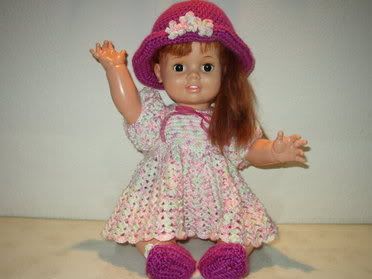 I made the little hat and booties from stash yarn, too. I love how they turned out! Yes, I realize I'm adult :)
And...miracle of miracles. I finished the damn Charlotte's Web. I may love Koigu, but I HATED this pattern. If it weren't for the Yahoo! knit-a-long, I wouldn't have been able to knit it (darn shame that would have been). The pattern is horribly written and boring. I'm going to burn the pattern, Excel spreadsheet and index pattern repeat cards in the grill. The yarn is from
Mystical Creations in the Raisin colorway
. After dancing around the living room when I wove in the last end, I soaked it in Eucalan and nearly had a meltdown when I saw this.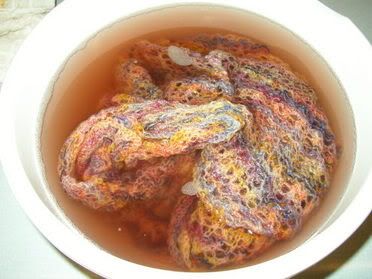 See how dark the water is? After a panicked call to my friend,
Sarah
(who I'm mad at because she wouldn't stick me in her suitcase when she went to Rocky Point. Jeesh), I rinsed and rinsed and everything was fine. Whew! 4,000 pins later and I have this.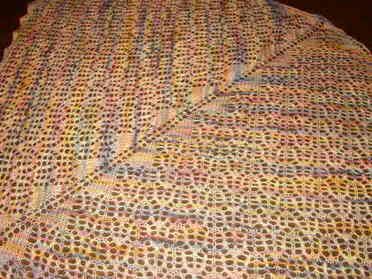 I am pretty happy with it, but it turned out differently than I thought. The yarn seems to have a thread-like appearance to it that I like. It is smaller than we estimated and the bind-off, even though I used a needle 2 sizes bigger, is tight. Blocking it was a total pain in the ass because of that.
I've also been blessed with gifties!! From my
Vacation Swap Pal, Karen,
I received a very thoughtful and totally awesome box filled with presents.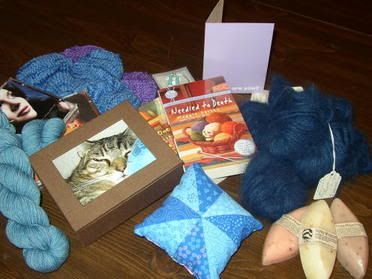 Gorgeous yarn - Art Yarn Ultramerino and poofs of silky soft angora (can't wait to find a pattern for this!), 2 very soft flower face cloths, 2 knitting mystery books (which is too funny because I bought my 2 pals the same books!), an H bookmark, 3 bars of yummy smelling soap, her first quilted project - a sachet that is so cute!, 2 Norah Jones cd's (how did you know I lost mine?) and the final present that had me in tears - a box filled with natural soaps with my Olive's picture. I cannot begin to thank you enough for your gift and the note.
And from my Secret Pal, 2 skeins of Lorna's Laces in the Purple Club (does she know me or what?) colorway.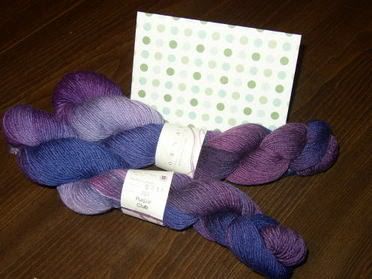 Thank you both, again, so very much. They were truly the bright spot in my week.
I'm trying hard to get out of my little funk and the kindness of my friends has helped more than I can say. More knitting content and happiness to come :)
Posted by Heather at 8:57 PM