Goodbye, my friend
This weekend we will spend saying goodbye to my sweet baby.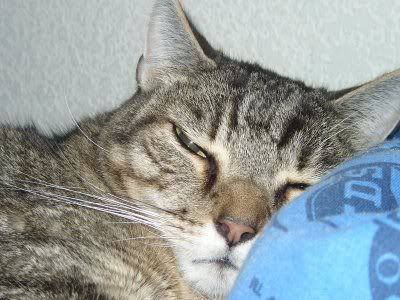 As much as it is breaking my heart, it is time. She is having a tough time more than not. She is truly the sweetest animal I have ever known. I will miss her hugs (yes, she really does hug), her head butts in the middle of the night, her stinky kisses and her fur all over me. I will miss the way, when she snuggles up with you, how she puts her little paw on your cheek. I will miss her following us around, crying, wanting to be picked up. I love her so very much and because of that, I don't want her to suffer.
I apologize for no blogging, unanswered emails and a few packages I need to get out. Work has been crazy, home just as busy as ever and worrying about my Olive every day.
Goodbye my dear, sweet, furry baby. I love you.
Posted by Heather at 7:31 PM