Random Stuff
As usual, things are busy around La Casa de Cranky Teenagers. Working, driving teenagers around, working, cleaning. The usual. But, there is also knitting!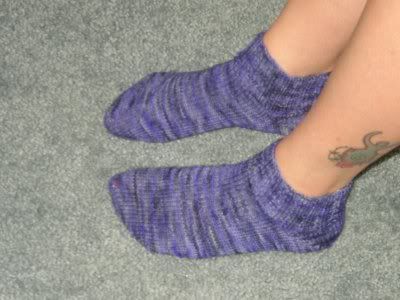 Know what those are (sorry for the blurry pic)? Koigu socks, baby! They were really a fun knit. And would have been faster if I had time to actually knit.
Pattern:
Wendy's Fabulous Toe-Up sock pattern
Yarn:
Koigu, duh. Given to me by my wonderful
Secret Pal from SP7
.
Needles:
Size 3, Addi Turbos
Changes:
I knit the socks on 2 circulars and knit the ribbing until I ran out of yarn.
I have 3 more skeins of Koigu that I'm going to make 3 more pairs of these. I like short socks and these are perfect.
Speaking of Koigu, I won a contest over at
Cat Knits
. The prize? A fab music CD and 3 SKEINS OF KOIGU!! Let me tell you, I never win anything. I was so excited to find out I won! Thank you so much. Koigu...mmmm....
Spring has come to the desert. I'm trying to ignore the fact that it also means summer is right around the corner. My front yard is all desert landscape with lots of cacti that is blooming right now.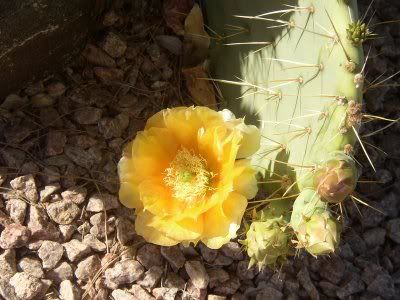 Beautiful, no? With Spring also comes my second favorite sport - Baseball! I'm a huge Diamondbacks fan (with a not-so-secret love of Luis Gonzalez) and my son is a ::gag:: Yankees fan. This proves that I really do love the kid.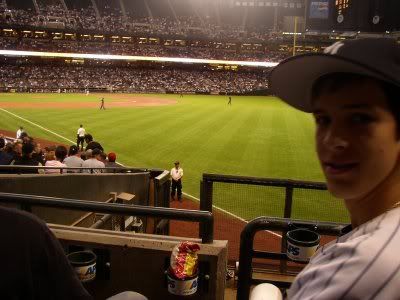 The Diamondbacks played the Yankees in 2 exibition games as the last 2 games of Spring Training. Because I love my son more than I can't stand the Yankees, I bought tickets for him. He was so excited! Brian took him since I was supposed to take the Princess to Stomp the following evening (she bailed on me in a teenager fit of not getting her way) and they really had a blast. I got great seats for him and he got to see his hero, Derek Jeter.
Again, thank you for your kind emails, comments and thoughts. Our baby is still with us. She was playing today with the little mice I bought her. She loves those. Every extra day is a blessing. I hope it lasts.
Posted by Heather at 8:21 PM