My Secret Pal Rocks!
Wait until you see the goodies I got! Well, most of them. On Monday I came home to a little package, just for me. Or so I thought. My fabulous Secret Pal made my favoritest cookies in the world - Sugar Cookies. I wanted to take a picture, because the container was so cute and the cookies so yummy. Unfortunately the teenagers descended on them like locusts on a corn field and ate all but 2 of them. You would swear I haven't fed them in a month.
Then, I got all these goodies on Thursday!!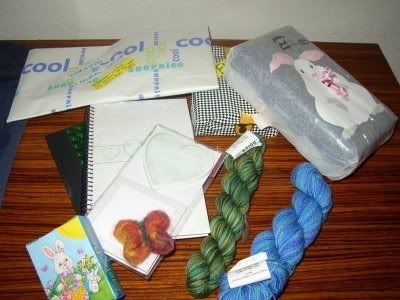 There are 2 notebooks (great for knitting journals, although the Princess is begging for the green one), a bunny puzzle, a cute felted butterfly and Koigu. K...o...i...g...u...(pretend I'm saying it really slow, in a seductive kinda voice). Did I mention I love Koigu (I'm not saying it in the voice here, don't want to freak people out or anything)? The second I finish my socks and this lovely baby blanket, it is all going to be about Koigu footies. If I can stop caressing it, that is.
Just in case you missed it, the Princess wants to show you her surprised face.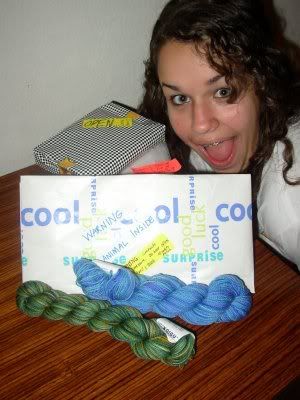 See the packages at the top? I can't open them until the 1st! Do you have any idea how that is going to drive me crazy? The Star has proclaimed 1 of them chocolate, due to his hounddog-like ability to sniff out any food source within 10 feet.
Thank you again so much, Secret Pal! I can't wait for the reveal so I can finally "meet" you. I have a surprise for you, too!
Posted by Heather at 9:21 PM