All wound up
I've been good about the yarn diet, right? I've resisted the call of the yarn store since my last trip to Fiber Factory (you do know that there is a shop less than 2 miles from my office? That I have to pass every single day on my way home? Torture, I tell you.). But, my Secret Pal awoke the beast. And now, I must have more Koigu! I found out that
Jessica Knits
carries Koigu and I was doomed. Jessica's is far from my house, but scary close to my boss's house and his other office. So, when I found myself up there on Thursday, I had to stop. For more
crack
Koigu. See what you started, SP? :)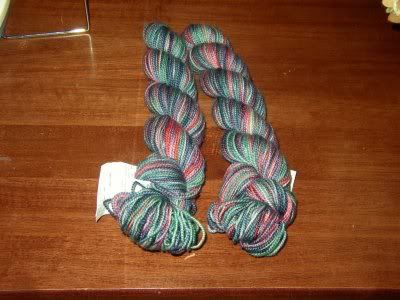 With my recent Koigu hoarding and my last FF trip, I needed to wind up all the yarn.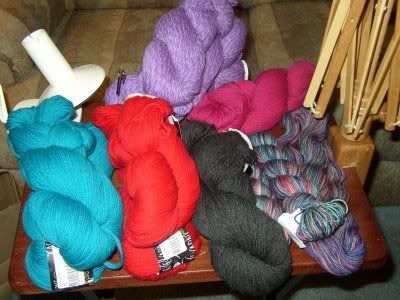 I don't have a swift, yet, so my friend
Sarah
lent me hers. Olympic watching + swift + too much yarn = hockey pucks of yarn.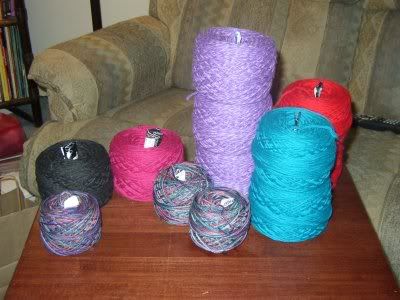 Now, I actually have to knit it all up. That could take awhile.
This next picture just cracks me up. As you know, my cat Olive has an upper respiratory infection. Olive is truly the sweetest, most loving cat I have ever had or been around. She has never scratched anyone and the vet loves her because she is very nice to him and doesn't attack. She adores Brian and wants to be held like a baby all the time. If she is nervous or scared, like when we go to the vet, she will hide her head in your arm so that no one can see her. Apparently, Olive thinks she is an ostrich. She has to have medicine twice a day and would prefer not to.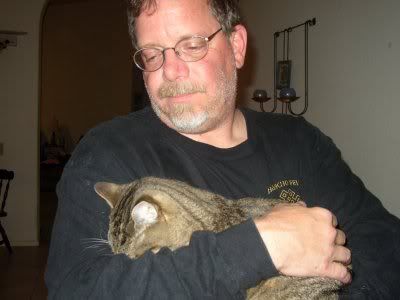 Too funny, huh? She is still sneezing (and dear Melanie, the sneeze sound is cute. The flying kitty snot isn't.) and I'm not too sure the medicine is working.
Zoe has chosen to sleep through it all behind Luna's tank. Can I be a house cat in my next life?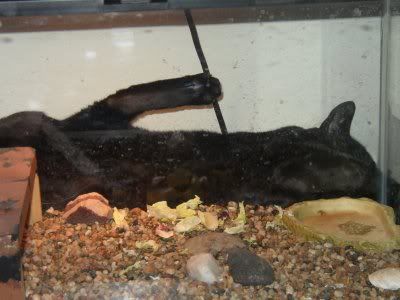 Posted by Heather at 9:55 AM