Goodies
Today was turning out to be one of those days. You know how it goes. Little, stupid things going wrong at the office. Long line at the post office followed by an even longer one at the bank. Horrible traffic on the way home. Just one of those days. But then, I came home to this.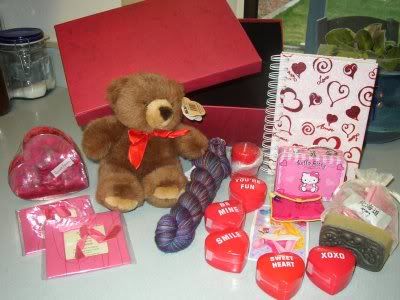 Isn't that fun? There is lots of candy, soap, cinnamon candle, picture frames, lots more candy, a bear and a journal. In the little pouch are gorgeous stitch markers made with beautiful garnet colored beads. Oh, the skein of
crack
yarn in the middle? Koigu!! More koigu!! It all came in the photo box in the back. The little box of chocolate on the side is from my SPs roomie. Isn't that so nice?
Secret Pal, you really outdid yourself. Thank you so much for making my day!
My SP also asked what I'll be making with my Koigu. Both are destined to be ankle socks. I tried to start them on dpns, but didn't have much luck. Circulars in the right size are on their way, so hopefully I can start them soon!
Thank you again!!
Good luck everyone on the Olympics tonight. I'll be casting on for a baby hat.
Posted by Heather at 6:04 PM