Here we go!!
(try to picture me singing here) Here we go, Steelers, here we go!! Pittsburgh's playin' in the Super Bowl!!
You can hear the real version and see the video here.
Needless to say, I've been singing it non-stop since I heard it on Friday. I'm so excited about the game that I couldn't sleep last night!!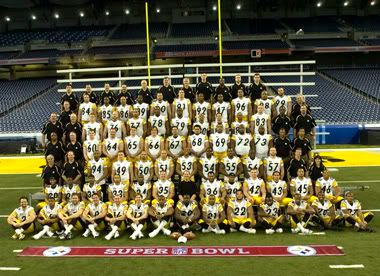 And I want to thank everyone for their support. Friday was so hard for me. One of the things that really helped keep me going was the comments. Then I started getting excited for the game and I'm feeling much better. Thanks again :)
Go Steelers!! I've loved you guys since I was 8 years old (wait 'til I find a way to scan a picture of me at 12 getting my first jersey at Christmas). I'm proud of ya'll no matter what the outcome.
Posted by Heather at 11:14 AM