Slippers and socks
Brian wanted me first to thank everyone for their compliments on the cat tree. He made another one today for his parents. Their cats, not them. And I want to thank you for not thinking I was nuts about the salad thing. Well, I'm nuts, but it isn't because of the salad. It's probably because my food can't touch. But that's a whole 'nuther subject.
As promised, before shots of the Princess Slippers.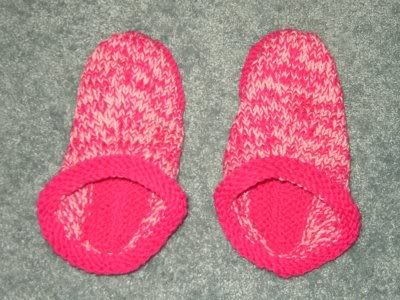 And after, being modeled by said Princess. She doesn't want you to know, though, that her shirt didn't match the slippers.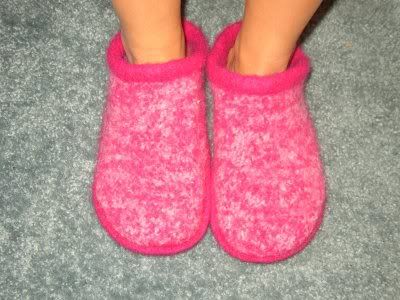 I love this pattern. She has barely taken them off since they dried. Can you believe it? It is truly a miracle.
Since I could cross another project off the list, I decided to cast on for socks. Now, I love making socks. The first one. The second one? Not so much. Thanks to
Illana
, I learned how to knit socks on 2 circulars. Thereby eliminating the chance I'd impale myself
again
with an errant dpn. I love knitting socks on 2 circs. And then, I found out you could knit
two socks at once
. Oh the joy! Then I tried it. And after spending a couple of hours feeling like I was some kind of retarded spider spinning a deflicted web, I gave up. It was a mess. Everything was tangled and twisted. This time, however, I was determined. I didn't learn to knit overnight, I would just have to take my time and learn a new technique. And...it worked!! It all clicked this time and now I feel like Charlotte the talking spider spinning my web (bear with me, there is little excitement here at Casa de Cranky Teenagers). Lookie here! We have socks!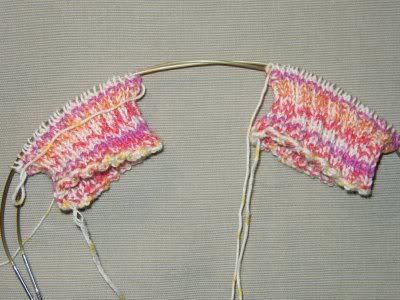 Is that cool, or what? Good thing I went to yoga today to stretch so I can successfully pat myself on the back. It is still a little fiddly, but I rather fiddle than knit a second sock. I'm sure with time I'll get better.
16 hours and 49 minutes. I'm never going to sleep tonight. Do me a favor, whatever you did last Sunday, please repeat it exactly. Not that I'm superstitious or anything. Ignore the fact that we are having the exact breakfast as last Sunday, wearing the same clothes (ok, that isn't a stretch...I'll be in my jersey) and lighting the same yellow candle (think I'm kidding?).
In the event that something happens tomorrow that shouldn't (I'm not even going to say it), I will be blogging from the mental wing of Chandler Hospital.
Posted by Heather at 7:57 PM