The week in review
Been an odd sort of week. The Princess has commenced sucking up to get off grounding (not working), my mom is out of the hospital (for now) and work is busy, but boring.
Since I was off Thursday and Friday due to the migraine from hell, I came in on Monday. Brian stayed home with the teenagers and completed this.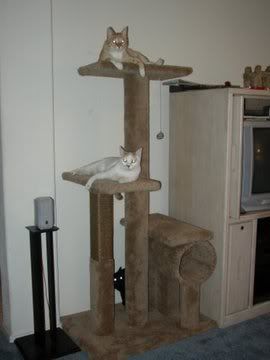 Is that freaking amazing, or what? I bought him (ok, he bought it because I couldn't have carried it and I didn't know what set to get) a power tool set he had been
begging for
wanting for a long time. He took shop all through high school and has been wanting to build some things. This is his first project. I am in awe. The cats
love
it. They sleep on it, play on it and hardly leave to eat. Sadie (the white one) used to sleep with the Star every night. He is pissed because now Sadie wants to sleep on the tree. What is Brian making next? A loft bed for the Star. Is he amazing, or what?
Me? I finished the Princess' slippers. She claims to love them, however after 2 days they are still drying. Let's see if she wears them longer than the time it took to make them and let them dry. They are pretty cute. I'll get a picture with her in them when they dry.
My job is a little boring these days. I'm the sole employee here and where my office is, I'm usually the only one in the building. Nice and quiet, yes. But I don't have a big project to work on and frankly, I'm a little burnt out. I could use a weekend in Pinetop (where we share a house with my in-laws) of doing nothing but sitting on the porch swing (where Brian proposed...awwwww) and knitting.
50 hours and 30 minutes until the Steeler game. I can't wait, but I'm so nervous. The entire season lies with this game. Can we beat Denver? I'm either going to be posting on Sunday after partying all day, or I'll be in bed with the phone off and the covers over my head trying not to cry. Yes, I'm an obsessed fan.
Posted by Heather at 10:25 AM