Ups and downs
The last several days have been very trying. A 3 day migraine. The Princess getting in HUGE trouble for something I never thought she would pull. My mother is in the hospital for what might very well be the last time. Friday was about the worst day I've had in a very long (and what I hope will be an even longer time).
But, this weekend has been better. I spent the better part of yesterday morning taking down the Christmas crap then spent the rest of the day knitting and trying to relax. It is so relaxing for me to listen Cast On! on my iPod while I knit (ok, maybe not with 5 interruptions from the Star to give me a play-by-play of his Halo game). And I finally have something to show for my efforts.
Remember this?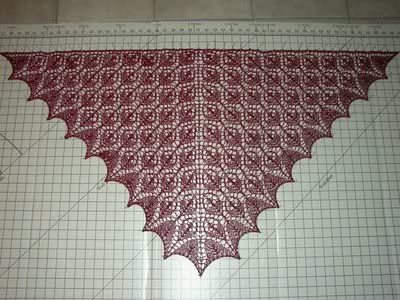 Well, I took out the border and added about 4 more sets of repeats. It just wasn't big enough for the way I wanted to wear it. I love the pattern, but I was pretty sick of knitting it. I finally finished last night, with probably 5 yards of yarn to spare.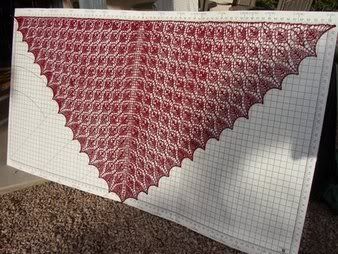 Quite a bit bigger. And I blocked the heck out of it. I can't wait to see how it comes off the blocking board. I highly recommend this for first-time lace knitters. I'd make it again, but no time soon.
And, the weekend did end on a very happy note. My Steelers won!! In a heart-stopping final 5 minutes, we beat the Colts!! My heart went out to Tony Dungy, though. But we won!! Proof that things do get better. Next week, the Broncos.
Posted by Heather at 3:50 PM