The diet begins
With a new year brings diets, right? Well, I'm on 2. One for the size of my butt, one for the size of the stash. Heh. Today Brian and I woke up (yep, he went with me) early to head up to Fiber Factory for their annual
yarn hoarding extravaganza
sale. My goal was to spend $101 to bring my discount up to the second tier of 25% off. I made a list of all the yarn I hoped would come home with me (I took a week to agonize over this) and we were on our way.
We were 15 minutes early and there was already a line of about 30 people. Brian couldn't believe people were in line that early for yarn. There were several people there from my Crochet Guild and we chatted in eager anticipation for the doors to open. Once they did, everyone calmly walked in and the carnage began! Situated right at the back doors is a wall of Cascade 220 and several of us stopped there. I had hoped to get some light gray, but all 8 skeins were snatched up as I put my hand in the bin. I still managed to get the rest of what I wanted and got dark gray instead. By the time I finished, the store had really packed. There were more people there than I have ever seen before. I managed to get the rest of the things on my list (and pick up blocking wires for my friend,
Illana
asked me to pick up for her) and Brian waited in line for me. Here is the haul.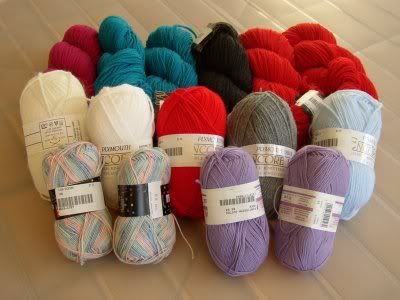 All the Cascade 220 in the back is destined for 3 new felted bags. The turquoise and magenta will be a
felted day pack
, the red will team up with some cream in the stash to be a
rick rack bag
and the dark gray will be used with some burgundy in the stash to be the same.
The second row is all Encore DK for a few gnomes from the Simply Knitting Christmas insert. I was going to use Dale Ull, but it was more expensive and didn't have that cherry red I wanted.
The front? Sock yarn in cotton. Because I didn't already have enough sock yarn for 6 pairs of socks at home. But this is cotton!
Not too bad, huh? I only need to get white and gray Fun Fur (for the gnomes) because what they had was way over-priced and they didn't have gray. That, combined with the crazy stash, should give me enough variety so that I can stay on the yarn diet all year (oh God, did I really just type that?!?).
The food diet? That is a whole 'nuther story.
Posted by Heather at 11:36 AM