Knitting by the glow of the...iPod?
Thanks to the psycho cat brothers, Sadie (Yea, I know. Hey, Pet not-so Smart thought he was a girl when he was a baby, too!) and Tigger and not feeling so great, I found myself wide awake 7ish on Sunday morning. With a quiet house. With everyone asleep. It was bliss, I tell you. So, I curled up on the couch with the Flower Basket Shawl and my iPod. On Saturday I had finally gotten around to uploading all the files into my iPod from a new podcast I found,
Cast On
. I love it!! Brenda talks about knitting, a little about her life and plays great indie music and has the loveliest voice to knit to. Before I knew it, I had listened to 2 podcasts and was through one set of repeats on the shawl. I still have a few episodes to listen to and I understand she is going to be putting them out more often. I'm really looking forward to it.
I finished the Felted Clogs over the weekend, too. What a fast knit! Fun to knit, too. You have to pay attention to the shaping, but, as I have found with other Fiber Trends patterns, the pattern is very well written and if you follow the directions carefully you shouldn't have any problems.
Pre-felted, with a kitty for size perspective (I thought it was hysterical that they could have cared less I was putting things on top of them). Huge, huh?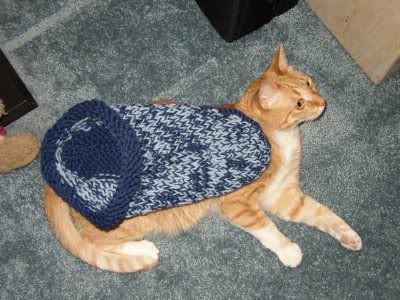 After several trips in the washing machine, we have slippers! You have to really felt them to death. There are doubled soles on the slipper and they are meant to be felted very tightly.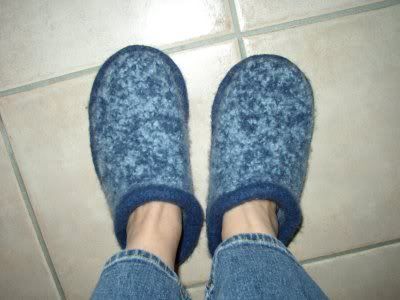 Aren't they cute? Very, very comfy and because I kept putting them on as they dried (which only took a day since it is so freaking dry here), they are molded to my feet.
I used Brown Sheep Nature Spun yarn. You have to use 2 strands, held together, for the entire slipper. It took 2 skeins of the dark blue for the soles and the one strand of the body. Less than 1 skein of the light blue for the one strand of the body. I'll be adding some puffy paint to the bottom of the slipper so I don't bust my arse on the tile.
2 balls gone out of the stash...too many more left to count.
Posted by Heather at 7:57 PM