SP, I love you.
Look at the goodies I got today!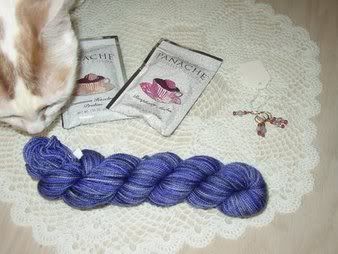 Know what that gorgeous purple yarn is? Are you sitting? It is Koigu. Koigu...the crack of yarn. It is so beautiful, I can't even stand it. I LOVE purple. I LOVE soft yarn. Purple soft yarn? Bliss, I tell you. There is also hot chocolate (one packet is now gone) and way cute stitch markers. Oh yea, and Sadie's big head. He would not leave me alone while I was trying to take pictures. SP, you rock!! I have wanted to try Koigu forever. I know exactly what I'll be making, too.
Alison's ankle socks.
Thank you so very much, you made my day :)
Progress continues on the current socks. I'm past the heel turn and gusset and now down the stretch for the foot. The yarn is weird. I've had to cut it at one point because the color patterning was off. On one sock, orange was next. On the other, pink. After all the effort I've gone into to make them match, I wasn't going to screw it up now. Normally, I don't care, but I wanted these to match.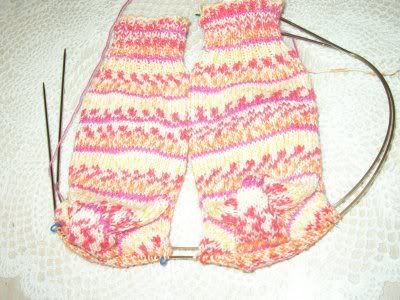 For all the work I did over the weekend, I got a lot of knitting done. I knit late into the night on Saturday and worked car detailing (waxing a car is hard freaking work) on Sunday. Cute, huh? I love making socks. Since I'll be making the Koigu ankle socks and probably need to use dpns, I can cast on for another pair on the circulars from the Fixation yarn my wonder SP5 friend,
Cece
sent me. I've been a little nervous to try the fixation because of the elastic, but I really love the color of the yarn and need to just suck it up and try.
Thank you again, Secret Pal!!
Posted by Heather at 7:07 PM