Jaywalking
I been wanting to knit the
Jaywalker
socks since I started seeing them in so many blogs. At knitting the other night, I tried to cast on for the pair, but failed miserably. I prided myself in not flinging my needles across the wine bar (see, I can show restraint at times) when I had to rip it all out. Last night, I patiently pulled out my
2 socks on 2 circulars tutorial
and tried again. Second time was a charm!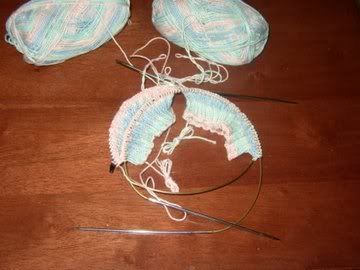 Photo credit to my wonderful husband who probably thinks that I think he has nothing better to do all day than take pictures for me so I can blog at lunchtime. Of course this isn't true, he is far to busy preparing my meals, washing my clothes and waiting in joyful anticipation for my homecoming. Good thing he likes me, huh?
Like the others, the first inch is tough going. The tail gets in the way, there is no bit of sock to grab onto and it is just all fiddly. But now I'm a few rows into the zig-zag pattern and it is smooth sailing! I'm telling you, 2 socks at a time is just brilliant. I've received so many emails and comments telling me it that people have either tried and gave up or that it just seemed to complicated. Really, it isn't at all. I'm going to be honest, I have a very short attention span (I probably still have ADHD, when I was a kid it was just called hyperactivity). I have a very difficult time following directions and keeping track of what the heck I'm doing (you can thank the teenagers for that) and given a little quiet and a lot of patience on my part, I got it. And once I did, it all clicked. I'm really determined to never knit one sock at a time again. I started not liking knitting socks because I would just dread the second one. Sure, knitting 2 at a time takes a little longer because you are moving things around a bit more. But when I consider that there were times that months would go by before I forced myself to knit that second sock, it is worth it.
Should the needles come in time for my Olympic knitting project, I'll be knitting the Aran Sandal (I'll be wearing them with clogs, thank you.) Socks 2 at a time as well. That should be interesting. If they don't come in time, I think I'll change my project to a certain number of charity knits. I'll know by Friday!
Posted by Heather at 11:35 AM