A new home
No, not for me, for my blog! Isn't it so pretty? I found it at
Beccary
from a link on
Melanie's
blog. I've been wanting a new template for awhile but never found one I really loved. Until today. Let me know if you think the print is too small. I have a huge monitor, so I never know.
Apparently, my kitty Zoe has found a new home as well.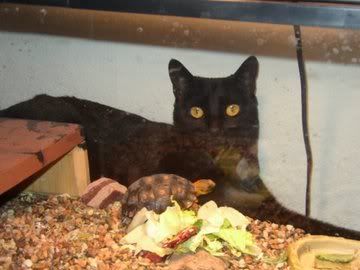 Looks like she is in the tank with Luna, doesn't it? Well, there is a narrow little space between Luna's tank and the wall. It is very warm there due to the special light we have for Luna. Zoe loves to sleep right there and Luna doesn't seem to mind at all. The life of my pets, I tell ya.
Size 3 Addi's are on their way and I could possibly have them by Friday. I did a swatch on the 1's I already had, but got 8 stitches to the inch and the gauge was 6 1/2 to the inch. Please let them work!
If you could, please keep the Baseball Star in your prayers. He is trying out for his high school baseball team this week and could use all the help he can get. There are so many kids trying out for so few spots. Last year he didn't make it and he was devastated. It was between him and another kid and they chose the other kid. Who went on to have a horrible season and attitude and was benched. Go figure.
Posted by Heather at 3:29 PM