Olympic happenings
I am so sucked into the Olympics, it is crazy. Snowboarding, speed skating, downhill. You name it, I've watched it. I'm pissed they are on during the day today, too. I'm going to miss something! I cried when Shawn White won gold for the half pipe. What is wrong with me? I cried when Michelle Kwan pulled out. I love the Olympics.
I've made lots of progress on my Olympic knitting, too. Ok, Friday knit it was Olympic Crocheting, but I did great!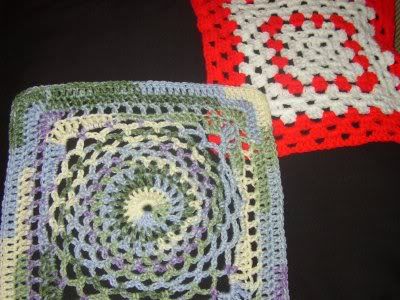 2 squares for
The Crochet Dude's
Heartmade Blessings project. What isn't shown is the hat I tried to cast on for. Wasn't working. I need 16" circulars. Bah!
Ok, was it only me who thought that the opening ceremonies seemed a little...out there? I did like the people in colored costumes who made up the skier. That was cool. And who picked the music that the athletes walked into the stadium to? American 80's disco/rock? Very, very strange. I was cracking up watching some country I never heard of walking to the YMCA. Too funny.
I also worked on a size 6 sweater for the
Dulaan Project
.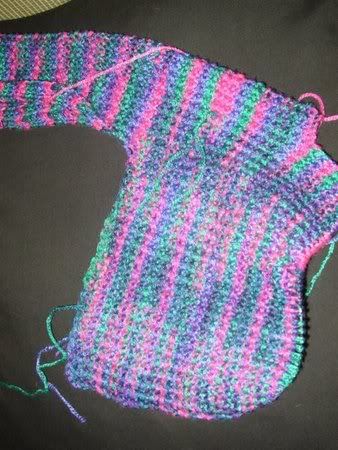 It is a cuff-to-cuff sweater from
Margaret Hubert
. I've made a few of these and I really like the pattern. This is her second version and I like it even better. Very mindless knitting. I'm about halfway done.
And since everyone in the northeast is sharing snowy pictures of their yards, I thought it was only fair that I take pictures of my backyard this morning.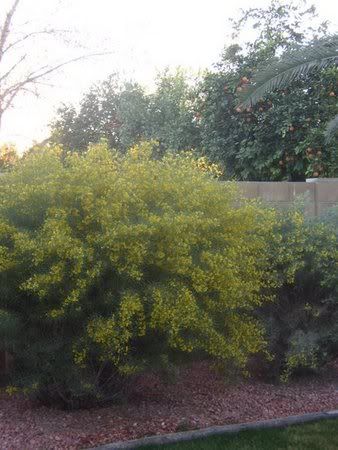 Overgrown bush (that I won't let anyone trim because I like the flowers) and a view of my neighbors citrus trees>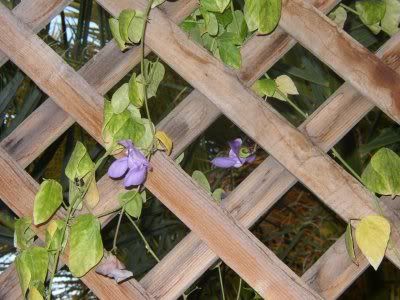 Flowers blooming on my trellis.
Don't hate me. You can all make fun of me when I'm bitching
about it being 119 here in July
.
Sadie was exhausted from all the Olympic watching. Or he doesn't want to think about it being 119.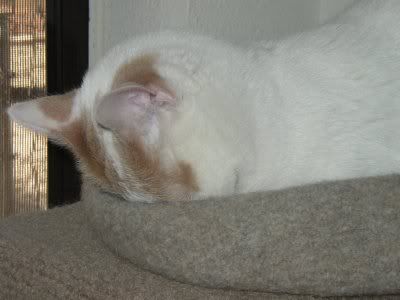 Posted by Heather at 9:17 AM