Finally, some pictures
As you can see from my last post, I can finally post pictures and blog from home again. Let's just say the poor computer had over 2,200 spyware things and 10 viruses. She is running better than ever now.
First off, look at this way cute pouch my friend
Kelli
gave to me.
Isn't that just too cute? It is perfect to hold stuff in my basket or a little project. Thank you again, Kelli :)
So, have I been knitting? Yep, though not as much as I would like. Then again, do we ever get to knit or crochet as much as we would love to? First up is a sweater I'm making for the
Knit for Kids
project that will eventually get to the
Dulaan Project
.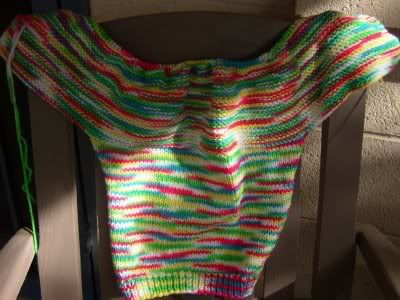 Pardon the crappy picture, I don't know what I was thinking when I took it. This is a great brainless knit for when I have only a few minutes to knit or during a movie. I keep one in the car because I have a lot of banking to do for work and spend too much time in line at the drive-thru. So, I sit there and knit.
I'm also still plugging away at the Jaywalker socks.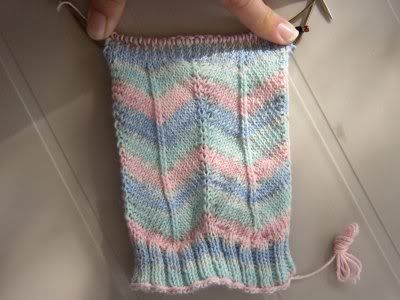 But for some reason, they are just boring right now. I'm on the heel, so I'm about at the halfway point. I'd like to get them done so I can wear them to work before it gets too hot.
My priority project, though, is another feather and fan baby blanket.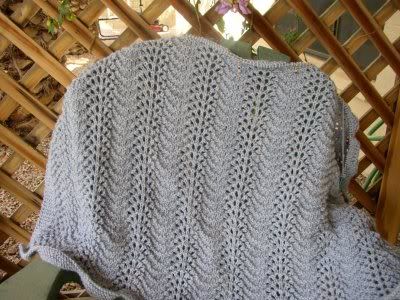 And a close-up of the pattern and color.
See the little stitch marker? My Secret Pal sent them in my Valentine's Day package. I LOVE them. The red bead is a gorgeous garnet color that is so beautiful and deep. I think that beaded stitch markers are like your knitting wearing pretty earrings. I use them all the time.
Tuesday the teenagers get their
lightning rods
braces off. They are counting the hours. And I'm thankful the payments are over. Can't wait to see what $7,000 paid for.
Posted by Heather at 9:33 PM