Friends and knitting and stuff
First, and most importantly, I have to thank every single one of you that commented, emailed, called or just kept us in your thoughts. Words cannot even begin to express my thanks. After I posted on Friday and I started getting responses, it made me feel so much better. I had just cried myself out. My cats are like my furry children and I love them so much. Their love is so unconditional and innocent. And they depend on us so much. Olive has been with me through alot of crap in my life, always loving me no matter what. She is doing a little better, though not as much as I would have thought.
Moving on...I haven't been knitting very much, but I do have a little progress to show. The baby blanket was finished a week or so ago.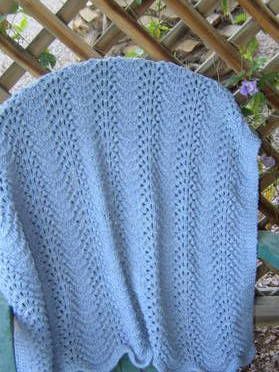 I really do love this pattern, although near the end I'm always bored out of my skull. I hope Brian's Great Nephew likes it.
Next up, the Koigu socks. Is this a gorgeous sock, or what?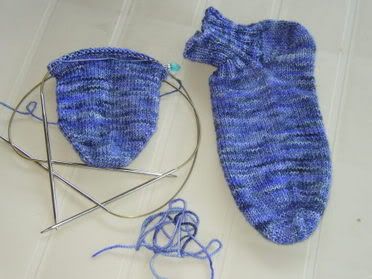 I'm using
Wendy's Toe-up Sock Pattern
and the Koigu my
wonderful Secret Pal
gave me. I am just so in love with the color. So rich and beautiful. I had one skein of this yarn, so I used my new digital scale and wound off 2 balls of the exact same weight. Then, I knit them until I ran out of yarn. How much did I have left? See that little bit of yarn at the bottom of the unfinished sock? That's how much.
Funny, huh? How did I get so close? Well, I figured out how much yarn a row of the ribbing took and left myself double that for the bind off and weaving. This is exactly how much yarn I'm willing to throw away. Not bad.
Also in my line-up are the Jaywalker socks. Which are boring. Very, very boring. So boring that a picture of them could put you to sleep. I love to knit socks, but these are not fun. And I don't know why, really. I'm still stuck on the heel flat, which looks rather wide to me.
There are other, random knits in the basket that need some finishing. My goal? To get a few projects done so I can cast on for something really different than what I've been doing.
Thank you again, my friends.
Posted by Heather at 7:08 AM