My baby
Two months ago we started battling a URI with Olive. She hasn't gotten any better, in fact her breathing is worse. And this morning it was scary. Off to an emergency vet appointment where I expected to be told she still had it, or something like it. What I didn't expect was that my baby would have a tumor in her abdomen. If you remember,
last May she had a tumor removed
. It was thought to be fatty, but not anymore. The one in her abdomen now is the size of a golf ball, which equals a grapefruit size in a human. Treament? Questionable, extreamly invasive and terrorizing to a very sweet cat. And expensive. Very expensive.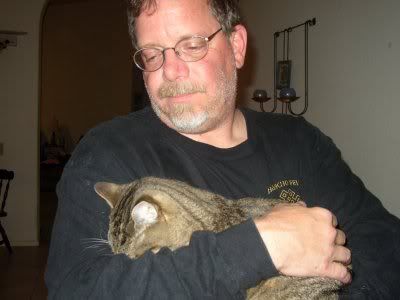 Right now I'm not sure of her quality of life. She sleeps in spurts, waking when her breathing is bothering her. The plan right now is to make her comfortable until the time when we are sure that she is suffering. I'm not going to subject her to all kinds of testing, surgeries and forcing medication down her throat. That is no way to live. And then it will be time to make a decision that I can't bear to think about. She is my baby and the sweetest, most loving animal I have ever been owned by. The teenagers, especially my sensitive Star, are going to be crushed. But if we love her, we will have to let her go.
And I really can't take it.
Posted by Heather at 12:30 PM