My new happy place
Things have been quite stressful here at Casa de la Cranky Teenagers. On a daily basis I feel like I'm losing my damn mind. Since we moved into the house, I really wanted a little place to call my own. Or at least somewhere I would love to sit and relax. Today Brian and I went to Lowe's to pick up a little something for me. Ok, for all of us, but I'm the one that really wanted it. Brian spent the day putting together my new favorite place to knit.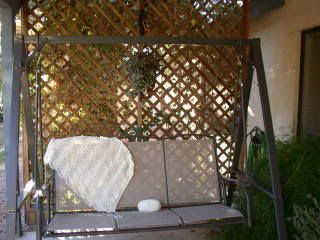 Isn't it just lovely? Kindly ignore the half dead plant behind my happy spot. I'm dammed determined to grow that plant here in Arizona. It is one of my favorites. I was so happy when he finished, I cried. A little dramatic, but things have been so tough and this made me so happy.
Being knit this afternoon is a blanket for the Princess' baby. Another
Feather and Fan
baby blanket in Encore cream. I love this pattern. As I work on it, I'm knitting it with love and good wishes for the baby. Certainly helps me relax.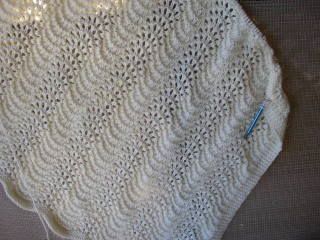 My goal is to make 3 blankets for the baby. One other will be knit in the basketweave stitch in either pink or blue (we will find out the sex of the baby around Thanksgiving) and I'm crocheting another one in favorite
pattern
of mine.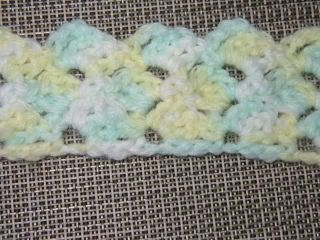 I've made this blanket many times. Variegated yarn (Encore, the best yarn ever for baby blankets) works the best with this pattern. Crochet is still really hard on my hands, which bums me out. I leave this one in the car and work on it when I can. I had more done, but ripped it all out when I realized it was going to be WAY too big.
I'm also working on a scarf for a friend for Christmas who lives where it actually gets cold in the winter. I've ripped it out 3 times now, but I think I'm liking this version.
See, told you I was knitting again!
Posted by Heather at 6:05 PM