Lots of knitting!
Things are crazy busy here at Casa de la Cranky Teenagers. Work is chaotic. Home is well...normal for around here. The teenagers are cranky and the cats are nuts. I think I'm developing some kind of tic when I hear the Princess' blood curdling screeching. I mean yelling. I mean talking. Thanks for all the advice on the Star. Alison had a great suggestion of going to school for the day with him. Except one thing. I've done that. Yep. 8th grade. I didn't say a word, just sat with him during every class. His friend summed it up perfectly. "Dude, is that your mom?" "Yep." "Duuuudeee...that sucks!" He has been given the warning and next time, I'm gonna be a high school student for the day.
Sarah
is going to make me a glittery shirt that says "Star's Mommy". Maybe I could bring my knitting?
There has been lots of knitting. You know, to keep me kind of sane.
A little progress on the Log Cabin Baby Blanket. It is kind of hot to work on right now. All that wool in my lap is a bit much. Also, some freaky thing is going on with the cats and the blanket and the yarn for it. No matter what bag I put it in, no matter how I secure the bag, the cats keep getting into it. I find the yarn all over the house and the blanket with it. No major damage, but they have never done this.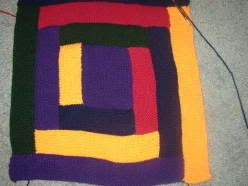 Not exactly my colors for a baby blanket, but my sister likes it and that is what counts.
I also want to make her several bibs and baby washcloths. So, the weekend before last I did just that. 2 of the bibs on the right are crocheted, the other 3 are knit. The washcloths are all knit. A little boring, but good for a movie. I finished a bib and a washcloth during one movie using one ball of Sugar 'n Cream. Not bad for $1, huh?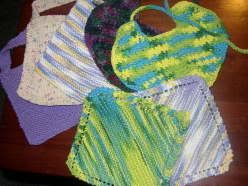 As I might have mentioned (ok,
Sarah
is probably sick of it by now) I'm going to Alaska with my family in June. I've been wanting to knit
Cece
for my step-mom for a long time now. I love her very much and as soon as I saw the pattern, I knew it would be perfect for her. So, I'm knitting it for her Christmas present to take on the cruise.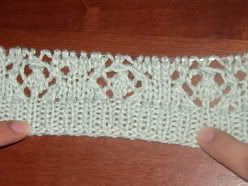 The yarn is from my stash (imagine that!) and is a very soft, almost icy looking green. It is a wonderful yarn by Red Heart called Cotton Twist that is discontinued. It is just like Cotton Ease, which I loved and is also discontinued. I loved how it knit up in my swatch. Very soft, a little drapey and nice stitch definition. If you knit it, watch that first row of the pattern after the ribbing. You have to really pay attention and double check your stitches by counting. That row sets up the lace pattern and if you get it wrong, you really should rip it out. Which I did. Twice.
I love knitting...it is really my little bit of peace in my crazy life.
Posted by Heather at 10:56 PM