So in love
I am so in love with this shawl. It fits perfectly, drapes perfectly and feels devine.
Drying was taking longer than I wanted to stay awake for (it was on the floor and I didn't trust the cats to not destroy it in my sleep), so we put a fan out and it dried really fast. So I could wear it to work, you know. Good thing I have my own AC in my office, huh? Thank you all very much for your kind comments. Brian is quite the keeper. I adore him :)
ETA: A HUGE thank you to Wendy at Cat Knits for the gorgeous Koigu that I won on a contest on her blog. Thanks again, Wendy!
Don't I look happy? Yea. It was 90 at 8am. Ugh.
Last week I won a puppy naming contest over at my friend
Bliss' blog.
You have to go take a look at her newest puppy. So cute! I was really hoping I won the puppy, but this is pretty darn good.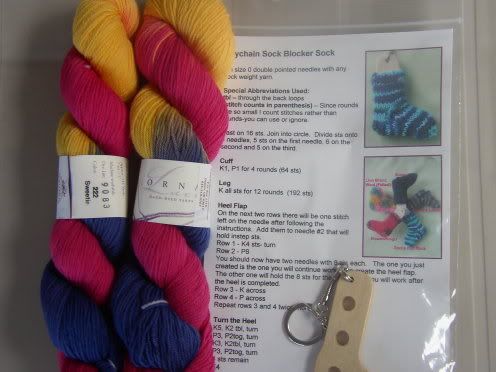 Lorna's Laces sock yarn in so-perfect-for-me colors and a sock blocker keychain! Isn't that cute? You knit a wee little sock for the blocker and it becomes your keychain. I think I'll leave myself a little of the Steelers sock yarn for that. Thanks again, Bliss!!
In case you are keeping track of the reasons the Princess hates me, I have an updated list for you. I don't let her do "anything" including the following: wear skirts so short you can see her crotch, get fake nails, get her hair highlighted, get a belly button ring and let her go wherever she wants, whenever she wants without having to ask permission. And I won't buy the $22,000 new car when she turns 16.
I am truly "a horrible mother". Gee, I didn't know my eyes could roll that far back in my head.
Posted by Heather at 9:42 AM