Finally!
Finally, it was my turn. After months and months of reading blogs where they got to meet her, it was MY turn!
Yeppo! That is me (great pic, ugh) and the
Yarn Harlot
! And let me tell you. If you think she is funny on her blog and in her books, you HAVE to see her in person. She is a riot. And so very nice, too. She stayed until every person in line had their book autographed. And didn't think I was a total dork that I ran out to my car for the 2 books I left there (I didn't want to be a total loser and bring all 3 books for her to sign) so she could sign them. The crowds that come to see her must be so surreal to her. Can you imagine? All of us standing in line, taking pictures. Wow.
And get this. Several of us Phoenix area chics had been warning her of the heat here in July. The night before she flew in we had a huge monsoon storm, bringing with it record daytime lows for July and lower temps for the rest of the week. Can you believe that? Let me tell you, if that is what having the
Yarn Harlot
come in town during the summer does for our weather, she can come ANYTIME. We'd all pitch in for her airfare and hotel.
Thanks again, Stephanie, for a wonderful night!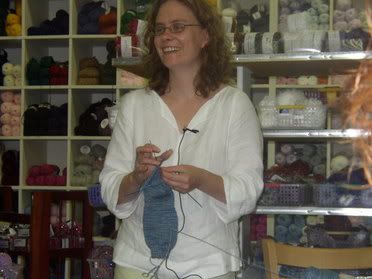 Posted by Heather at 4:00 PM