It's love
I love my knitting. Yes, I've said it before. But this is a whole new kind of love - it has beads. After a false start, I was up until 2am knitting my Beaded Shawlette. Isn't it amazing how lace looks like this all bunched up.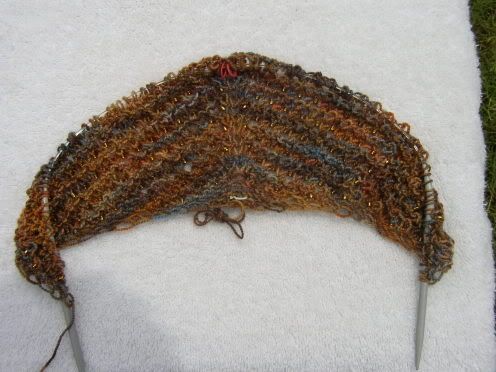 And with a little stretching can look like this.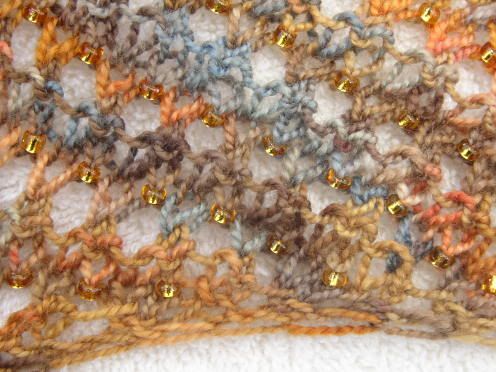 Just so you know, I braved the inferno outside to get good shots for you. See how much I love my readers?
Isn't it beautiful? I love the colors of the Koigu (which I won from a contest over at
Cat Knits
) and the beads are the perfect color and size. They are subtle and add enough "bling" without upstaging the Koigu.
I was worried about the bead row being totally fiddly, since you use a crochet hook to put the bead on the stitch then knit it. But it isn't bad once you get the hang of it. It would help if I held my yarn in my left, so I might have to beg Sarah to show me again. The tough part is some of the holes in the beads aren't big enough. I'll probably wind up getting a smaller hook so I can use all the beads. Knitting this shawlette is so much fun, I can totally see it being my newest addiction. Because, well, we all know I have enough felted purses (except black, I totally need a black felted purse with silver beads. An illness, I tell ya.) and I need something to be hooked on.
I ordered the pattern
from The Mannings
. And while I'm thrilled it made it here in 2 days, I'm not thrilled I was charged $3.00 shipping on a $6.00 pattern when it cost $.87 to ship.
And in case you were wondering how the Star is faring being home all summer, he got a job. I though hell would have frozen over, but it is still over 105 degrees outside, so I guess not. He loves it, though. A miracle for sure.
Posted by Heather at 1:11 PM