A few of my favorite things
With the temperature hitting the 110 range, what's a girl to do? Stay inside all weekend, that's what she does. Yoga class early in the morning, hit the grocery and barracade yourself inside for the rest of the weekend. I'm not kidding you when I tell you how much I hate being hot. I'll do anything to avoid it.
2 of my favorite past times are reading and knitting (bet you couldn't figure that out). I'm frequently bummed that my knitting time cuts into my reading time, and vice versa. Sure, I can read a magazine or spiral book while I knit, but I want to read hardbacks. And unless I was could grow another arm, it wasn't going to happen. Until tonight.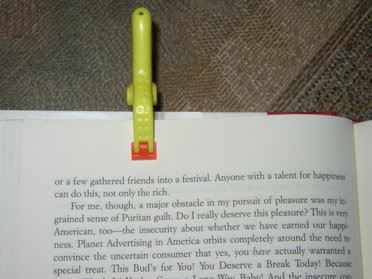 Can I just tell you how smart this little clip made me feel? I've tried other clips, but they didn't work. I picked these up at the dollar store for closing food bags (I'm SUCH a freak about that. Comes from living in bug-infested Florida.). Forget the food, these babies are coming to live in my knitting toolbox. Brilliant. The book? "Eat, Pray, Love" by Elizabeth Gilbert. Love it.
I needed another, small, project to knit on since I'm in the last beading rows on the shawl. So I started a sock. One that I will need in less than a month.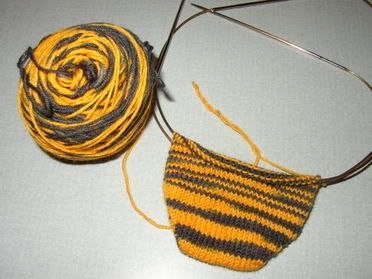 Steelers socks!! I'll be going to the Pre-Season game against the
embarassment to football
Cardinals on August 12th. Of course I need socks to match my new jersey!
The Star is now convinced his mother is nuts. It's the heat, you know.
Thanks so much for the sweet comments and emails about the Princess. She looked just like one the day of her party. I can't ever believe what a beautiful, sweet girl (ok, most of the time) she is growing up to be. Time is going by too fast. She will be home on Tuesday. Let the fun begin.
Does anyone want to start a betting pool on the first fight between the teenagers?
Posted by Heather at 7:54 PM