Finished!
This is why I have the best husband in the world.
Blocking is so hard for me. I always have a hard time making everything even and this shawl had to be blocked a certain way. And crawling around the floor is even harder for me. Brian is great at blocking! Who knew?
A closeup of the stitches and beads.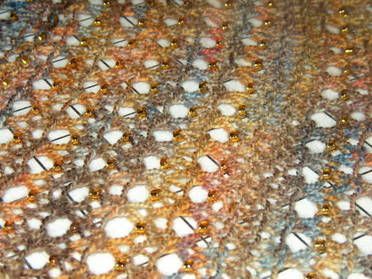 I really love this shawl. The pattern is easy and very well written. The beads are put on with a crochet hook every 4th row. A little time consuming and kind of tough on the pads of my fingers. They are subtle and add just a bit of shimmer to the shawl.
Hopefully it will be dry by bedtime (gotta love the dry air here!) and I'll wear it to SnB tomorrow night. I don't care that it will be 105, I'll look great!
Posted by Heather at 8:37 PM