Whoa...
I have serious project hoarding issues. I ran off to Fiber Factory this morning to pick up the pattern for the
Flower Basket Shawl
and the yarn to make it.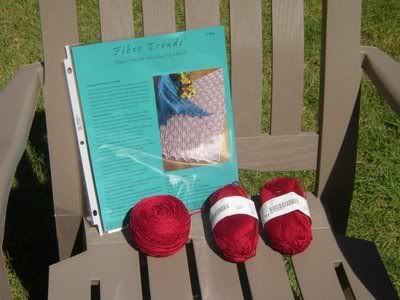 As soon as I came home, I tossed Clapotis aside like an old sock and worked up my swatch. The yarn is gorgeous. Soft, slippery and the color is so deep. That got me to thinking about all my other projects. And all the projects I know I have stuffed in the closet. And then my OCD brain started smoking. So what does any person who now has too much time on her hands do? She pulls out her obsessively organized stash/projects and starts a list. It ain't pretty my friends.
On the Needles
- in order of when I started the project
Felted Sheep
Baby Blanket (shower is in July)
Cable Afghan (meant to be a very long term project)
Clapotis
Flower Basket Shawl
Not so bad you are saying? Ha!! I then dug through the embarrassing stash and pulled out all the yarn that was dedicated to a particular project (other than the stuff I bought
when I was out of my mind
when trying to be creative and think I'd come up with some fabulous project for the yarn.
I have 19 projects ready to go.
19
. Add that to the 5 I already have and well, I'd have to complete 2 a month to finish them in a YEAR. What in the world am I thinking when I buy yet another project? As it is, I squeeze knitting time in at stop lights. I really need help.
I told Brian that I'm not buying anymore yarn until I finish most of the projects I have. He starting laughing hysterically and left the room.
Last, but not least, is a picture of the Clapotis. The colors are a bit off in the picture. I'm about to drop my 3rd stitch.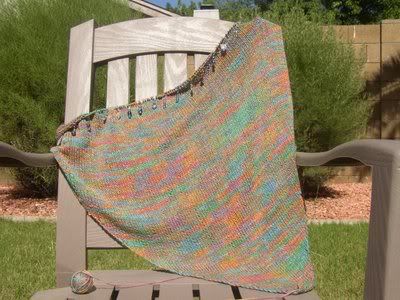 Made in SWTC Oasis and considerably wider than the
the first one
. I really love her, even though I tossed her aside today over my latest obsession.
Posted by Heather at 3:23 PM