Felted madness
I've always known that I have the best husband in the world. Now I have further proof.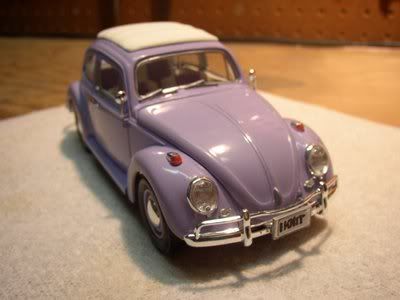 Isn't that great? He loves to build models and I love slug-bugs. So, he made this for me. Don't you love the license plate? One of these days I'll actually get that for my car.
Haven't been able to knit much lately because my wrists have been hurting. I was finally able to finish the test knit purse I was doing for SWTC. Do I like it? Not really. I love the Karaoke yarn (the felted part), but I'm not crazy about the look of the purse. The pattern was awful and needs some serious re-working. The karaoke felts well, but with enough fuzz to make a little purse. I put it outside for the birds to grab for their nests.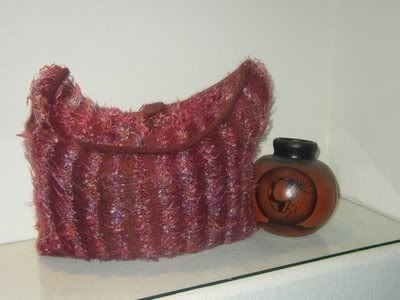 It is also kind of big, no? Since I was already felting, I seamed up the Noro bag I made and felted that too. Now this purse, I love.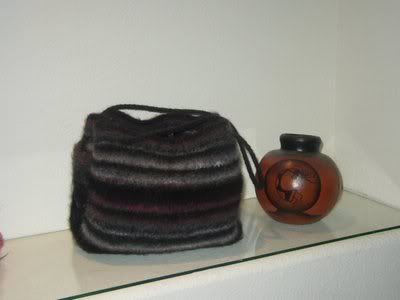 I also finished the Sapphire sweater. It really needs to be blocked, but SWTC will do that. I was able to tear the Princess away from the phone long enough to try it on. Note the annoyed expression. I'm back to not being able to breathe right in her majesties presence.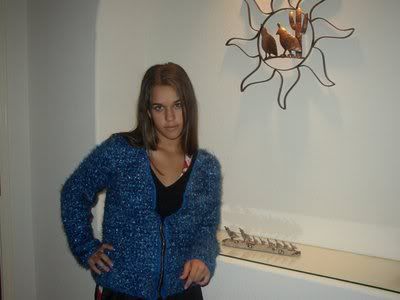 What's on the needles & hooks now?
A crocheted afghan for my friend in Florida out of TLC Baby. And the same cabled panel I showed the other day. I really love making cables. Very different from anything I've done before. I think I'll be starting another bag, too. Might as well give in to the addiction. It's hopeless to resist.
Walked quite a bit this weekend to train for the 3-day. 4 miles on Saturday alone and another 4 or so with
Eva
this morning. I really had a wonderful morning walking with her. Sure makes the walks much more fun!
The Princess and the Baseball Star leave on Friday. Even though they are driving me a bit crazy, I miss them already and I'm trying not to cry. 5 weeks will be a long time.
Posted by Heather at 6:56 PM