Baby knitting factory
And the baby knitting continues. What is it about baby knits that is so much fun? First up is a hat and baby sock set knit out of self-striping yarn that I can't remember to save my life.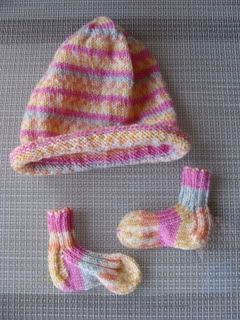 Isn't it adorable? The hat pattern is a recipie from
Knitting Rules
by the beloved Yarn Harlot. Knit a gauge swatch, do some math, you have a hat. Very simple and I love the way it turned out. The socks are from a free pattern on
I'm Knitting as Fast as I Can
. Very easy to follow, but really hard to knit such wee things on my needles.
I also finished a pair of socks that have been lingering on the needles for a long, long time.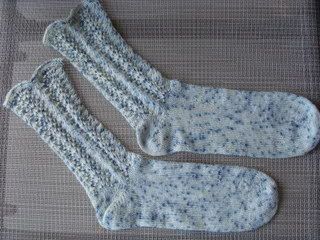 Yarn? Who knows. Some kind of bamboo and cotton, I think. Very soft, but very splitty and the blue ran when I hand washed the damn things. They were more cream before I washed them. Oh well. The pattern is
Wendy's Generic Toe-Up Feather and Fan Sock
from Wendy Knits. I love her sock construction and this pattern was very easy. I prefer toe-up socks so I'm not worried about running out of yarn and so that I can use every inch of yarn, especially when it comes to hand painted yarns (this wasn't but still).
And who doesn't want to knit Alison's adorable
Baby Bell Bottoms
? The yarn is Shine Sport from KnitPicks and I love it. Soooo soft, non-splitty and cheap! Can't get better than that. Like Brian's feet in the picture? All the others were blurry, so you get to see his feet. And yes, for those of you in the frozen North, he's wearing flip flops. Only 65 here right now. ::snicker::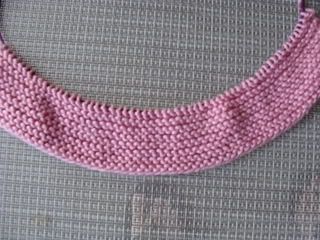 I needed to clean out the yarn stash a bit to find all my Sugar N' Cream to make
knitted baby bibs
(thanks again, Sarah, for helping me find the pattern). They are addictive and I've already knit 3 of them. I've been tired of digging through huge bins of yarn to find everything, so I used my stash of zipped plastic bags (from sheet sets and such) to sort the yarn - sock yarn, wool yarn, shawl yarn. Holy crap. I swear, it's breeding in there. There are so many new, gorgeous hand painted yarns in the online shops these days and I've been drooling over them all. I made a deal with Brian that for every 2 pairs of socks I knit, I can buy yarn for another pair (really, he doesn't care, but I have enough now for 17 PAIRS.). I knit one sock over a weekend, so if I stick to it I can have some new, pretty yarn soon!
Must.knit.faster.
Posted by Heather at 4:45 PM