Caught in a web
Is it really Sunday evening? Where did my weekend go? For that matter, is it really August?!? Just under a month until our major fundraising event at work, followed by our Christmas in October event for the children & seniors in our shelters followed by the Breast Cancer 3-day in October. Yea, I'm freaking out.
Not much knitting going on at Casa de Teenagers. After working a 9 hour day, I'm generally too exhausted to think that much. But, I have been trying to knit a little here and there. Socks are coming along.
I don't like doing ribbing very much, so it is slow going. I do love knitting socks on 2 circs though.
I've also started Charlotte's Web out of the yarn
Sarah
and I ordered from
Mystical Creation Yarns
. At first I wasn't so sure about the color (it looked more yellow that what I saw online), but now I really like it.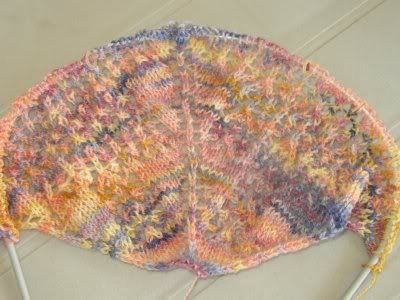 A little close-up.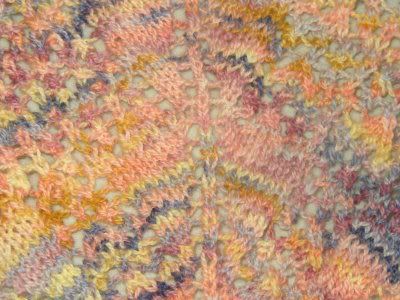 If you are planning on doing this and don't have much experience with lace, do yourself a HUGE favor and join the Yahoo knit-a-long group. Someone posted a spreadsheet that actually made the horribly written pattern make sense. It was written by the people that make Koigu. Gorgeous yarns, but they should pay someone to write patterns for them. Jeesh.
Well, that's an update on my little corner of the world. Let me run back to my life where the Baseball Star just got off being grounded and the Princess is now grounded. Please remember people, that it is all MY fault.
I
was the one that left her sitting outside the mall for an hour waiting to be picked up after she drove out to Queen Creek to get my friend, drove us to the mall and went back 4 hours later to sit there fuming while I took my sweet time showing up. All my fault, yep. Gee, going back to work tomorrow isn't looking so bad after all.
Posted by Heather at 6:27 PM