Feelin' the love, baby
Today I got together with my friend Rachael for lunch. She is an occasional knitter and weaver. I was telling her all about my lace obsession the other day and lookie at what she brought me from her stash.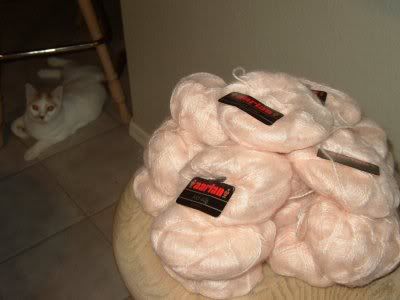 Can ya feel the love? Friends, that is 17 skeins of lace weight yarn that is 80% kid mohair and 20% silk in a soft pink. Around 1700 yards if I'm adding correctly. I almost cried. Oh, and that is Sadie in the background posing for you.
Since I was taking pictures, I thought I'd take pictures of the shawl in progress on my needles from Sarah.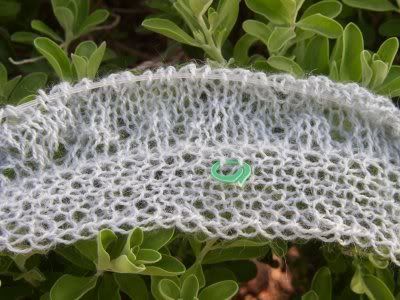 Not much to look at right now, but I still love it. Odd pattern, though. Hopefully it will all work out. Did I mention there are no stitch counts at the end of each row? That is not going well with my OCD, let me tell you.
I've also been working on a project for SWTC, but I'm not sure I can blog about it. I'm almost done, so when I turn it in I'll find out. I'd get more done if the freaking cats would stay out of it. I should take a picture of that freak show when I try to work on it. Heh.
Posted by Heather at 5:19 PM