More
I just found a new sock yarn company,
Simply Socks Yarn Company
and I love it! I placed my order late Friday afternoon and I got my order yesterday. Now that is fast! For some strange reason, we have a really crappy selection of sock yarn available to us here in the desert. Not only do they have a great selection, but Allison is really sweet and a joy to work with! I know I'll be ordering from there again and again and..well...you get it.
While I'm blabbering on about my latest yarn purchase (there goes yet another diet!), I really need to say thank you to someone else out there.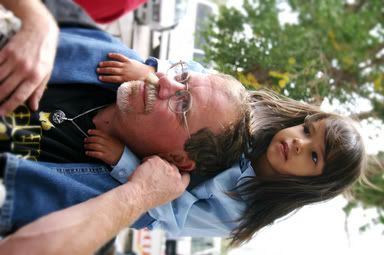 Taken at orpahanage in Agua Prieta, Mexico.
I truly have the kindest, sweetest and most patient husband in the entire world. When I opened yet another box of yarn I said I wasn't going to order, he just smiled and didn't say a word. He didn't mention the 4 Rubbermaid tubs full of yarn that take up all the storage space in our shared bedroom closet. He didn't mention the 20+ projects I already have planned. He didn't mention all the money I must spend on yarn. Brian is my biggest supporter in anything I want to do, try, think I want to do. And he is my best friend. 5 years ago this month we took that scary step from being "just friends" to a life filled with more happiness than my sad life had ever known. Happy Anniversary babe...I love you more every day. Even though you steal the covers and hog the bed. Oh, and snore :)
Posted by Heather at 11:22 AM