I am in love...again.
Who is the object of my new-found affection?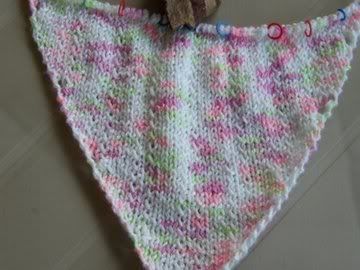 My little Clapotis. Isn't she pretty (No, that isn't a huge stitch marker it is a rock. Why a rock? Because it kept curling back on the circulars)? After much encouragement from my
enablers
friends in my knitting group that I wouldn't be tossed from the group for using acrylic, I found the most beautiful yarn at CraftMart. TLC Baby in the Fizzy Print colorway.

This yarn is exactly what I wanted my Clapotis yarn to be. Extremely soft, drapey, not stiff (like the Bamboo and another TLC acrylic I tried), a hand-painted look and cheap. $15 bucks for the yarn. I live in the freaking desert, how often will I actually wear this? Not enough to spend $120 for the yarn the pattern calls for. Plus, with my tendency to be a total klutz, if I spent that much on the yarn, you could pretty much guarantee I'd ruin the thing the second time I wore it. Ask my poncho about that.
Met up with some of my friends from Stitch n' Bitch last night at Cupz. Sarah, Eva, Ashley, Alison, Mary (?) and Jude where there when I cast on her first stitches. I am so glad I went. I was desperate to get out of the house
to get far, far away from the teenagers
for a bit of a break. We had so much fun! I love getting together with everyone. Pam, Melanie and Illana...I missed ya'll!
Yesterday I was chosen to be a test orderer for the online site of
Wendy's
hangout,
Knit Happens.
What did I buy? Oh...some Noro Kuryeon and some Lorna's Laces to make 2 new purses. Err, I mean bags. Stay tuned tomorrow when I take the first step in the Felted Bags Anonymous program and post pictures of all the bags I've made in the last year. This could be tough.
Posted by Heather at 8:43 AM