Baby Sweater
I finally took the plunge and seamed up the baby sweater. I've never hand-knit a sweater before, so I was a tad apprehensive. It wasn't as hard as I was making it out to be and picking up stitches along the neck and button band wasn't too tough, either.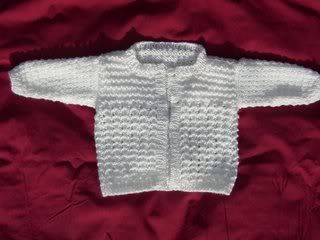 A little stitch detail.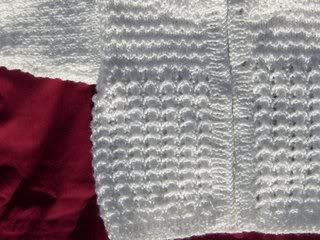 The pattern is from Sweet Layettes to Knit by Leisure Arts and I used TLC Baby. I really loved knitting this little sweater. The cuteness of it is just too much. The pattern was easy to remember, it wasn't too tough to knit and the yarn is very soft. I can't wait to send this to my friend, Melissa. I'm going to make a hat, booties and crochet an afghan to go with it. Let's hope I'm still in love after all that.
It is hard to believe, but I don't have any other projects on the needles or hook. I'm waiting for a picture of my SWTC sweater so I know how to put in the zipper, but that's it. I knit about an inch of the Broadripple Socks before Brian said he really didn't like them. I really didn't, either. Knit about 3 inches of the Snowdrop Shawl before I realized that I really don't know what I'm doing when it comes to knitting lace. Frankly, it sucked. I want to make the shawl so badly, but I think it is WAY out of my skill range. So, to the frog pond it went. My current fixation is finding the perfect yarn for Clapotis. Maybe this weekend I can come up with something. I've been accepted as a tester for the
Knit Happens
online store. We have to order on Tuesday, so I might wait until then.
My hubby thinks my little personality test was dead on. Bah. That will teach me to show him my blog. He is off to PIR this weekend for NASCAR. Ha! I wonder what kind of personality test he would fail after hanging out there all weekend.
Posted by Heather at 7:42 AM