Finished!
With the help of my daughter, Stephanie, I finished my second test knit for
SWTC
. She helped out with the fringe and offered to model for me (way too much America's Next Top Model watching going on in this house).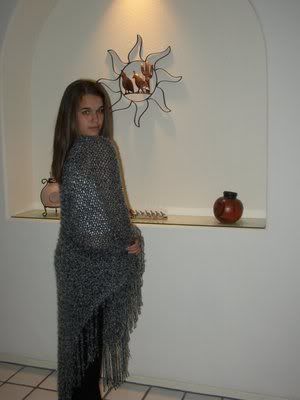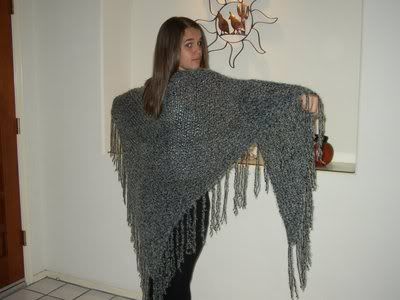 It is made out of Diva in the Alluring colorway. Easy to knit with, didn't slide around the needles like the Fur Real one I did. It is really warm and soft, but I'm not sure I like the color. It is black with white "squiggles" but looks greenish in certain light. I love how the fringe looks, though.
Ok, I am obviously a doofus. Why, when I get the SnB Evites do I assume it is that night? I thought knitting was on Tuesday, when it is actually tonight. Why am I a doofus? Because this is the second time I've done this. Right Alison?
I think I'll cast on for Clapotis tonight. Might as well start a scarf when it is 95 degrees out!
Posted by Heather at 7:09 PM