2 in a row?!?
Try not to faint. I'm blogging twice in less than a 24 hour period. I doubt anyone is reading yet, but someday, someone will and they will be amazed at my tenacity. Today has just be nuts. Could someone explain the need for my boss to have accounts at 3 different banks in Scottsdale where the traffic sucks due to people having nothing more to do than go to lunch and shop? Can you hear my screaming?
We are off this weekend to go camping near the Verde River. I need this weekend desperately. I will be lazy, sit around a camp fire laughing with friends and my kids and knit obsessively. And drink hot chocolate with kahlua. Bliss I tell you, bliss. No phones, no computers, no insane cats trying to kill each other. I may never come back. Well, I guess I better since there are no showers and within a few days the fumes will send me running for home.
Since this IS a knitting and crochet blog, I guess I'll leave you with some pictures of my past work.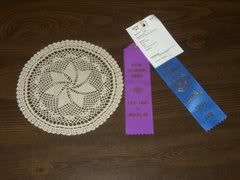 My first doily with size 20 thread.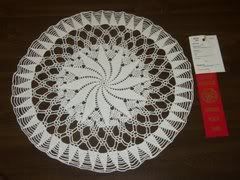 Size 10 thread, not too thrilled with the last row.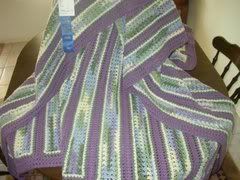 Queen sized afghan. One month after winning first place and putting it on my bed, the cat (which somehow is still alive) chewed a hole in it. It now graces a box in my closet.
Have a fabulous weekend!
Posted by Heather at 2:21 PM