I'm on a diet
A yarn diet, that is. Today I decided to re-organize the stash and inventory what I have. Holy crap.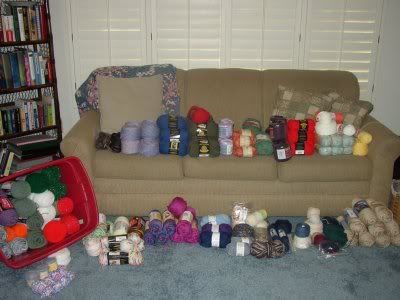 This doesn't even include what I'm currently working on. The yarn on the couch is slated for specific projects. Starting at the left we have Manos for a hat, Karaoke for a hat and a purse, Cotton Ease for a sweater, Wool Ease in Olive for a sweater for my father-in-law, Luster Sheen for a vest, Bamboo for a vest, boucle for couch pillows, plum colored thread for another vest, Cotton Ease for another sweater, assorted cotton for 2 sweaters and a purse. Clearly this could take years to accomplish.
On the left of the couch is a bin of acrylic yarn I have no clue what will become, the same with the Target yarn in front of it. Traveling toward the right is some yarn for charity knitting, Nature Spun for who knows what (want to bet a purse?), yarn for at least 6 pairs of socks, lace mohair for a shawl and scarf, assorted cotton for dishcloths (yea, like I'll ever make them) and finally the yarn I bought for the Knitty Gritty Aran Afghan.
Could someone please tell me how the hell I'm going to use up all this?
And just when I thought I hadn't proven what a moron I am, take a look at this.
Looks cute, huh? I thought so too and I'm about 10 rows from binding off the left front of the bolero. Small problem. I did the raglan decreases on the right side and the boleroie (whatever it is called) decreases as well. Yea, not gonna work so well. And why did I do that? Because I don't know my freaking right from my left. No. I'm not kidding, either.
At this rate, I'll never get through the stash.
Posted by Heather at 10:06 PM