Actual knitting content ahead
Guess it is time for this to go back to an actual knitting/crochet blog, huh? Oh, I'm sure there will be plenty of sarcastic opinions tossed in occasionally, too. But I've got to pull myself away from the tube and online news before I get committed. Watching Anderson and Jon doesn't count. ::dramatic sigh uttered here:: I think Brian might be getting just a little jealous of the growing list of pretend boyfriends. Viggo Mortensen is still at the top of the list. Yum.
Onto knitting stuff. Secret Pal 5 has ended and 6 is about to begin. This was my first time around and I loved it. I was spoiling
Mac
which was really fun because she is a spinner and I'm not...yet. For her last surprise I sent some gorgeous roving that made me want to convert. However, I had the BEST secret pal of anyone! I was being spoiled by
Cece
. For my last surprise, I received this gorgeous bag.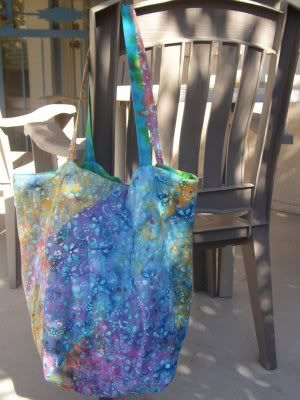 Isn't that just beautiful? Reminds me of the water with the blue colors. Cece MADE it!! It is nice and deep with perfect length handles. If it look a bit bulging at the bottom, well...because it is. I have all my current projects in it. Thank you so much, Cece for being such a great pal. I loved all my surprises!! Especially this one, because you all know how much I love bags. Case in point.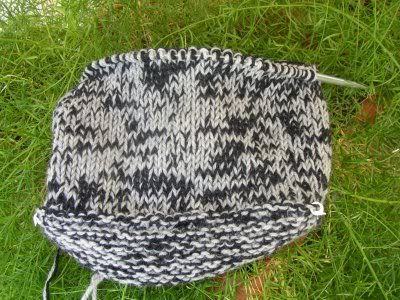 What can I say? These bags are great brainless knitting for me. I love knitting them with 2 different colors held together because you never know what you will get. It also makes for a nice, sturdy bag. In case you are wondering, I knit most of my bags from
this pattern
. Omitting the sheep and the front pocket (which is useless). I've lost count of how many I have now. I give up on giving them up.
I haven't worked on Charlotte for awhile, but have made some progress since my last picture.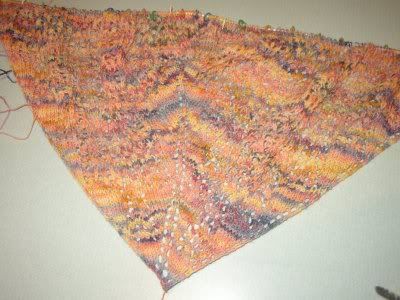 A little closer.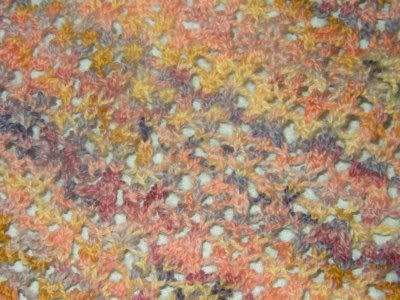 I do love working on her, but I think I might have mentioned this 100+ times, I'm too dead at night to think. So she is waiting patiently until I leave for New Mexico in 6 days. I'm pretty excited about the trip. It is a 500 mile bicycle ride (no, I'm not riding, I'm crew) from Santa Fe, New Mexico to Telluride, Colorado. Guess where we will be nights 2 and 3? Taos, New Mexico my friends. Home of La Lana Wools. Gorgeous locally raised sheep and dyed with all natural materials. It is 2 blocks from my hotel (planned that good, heh?). Of course, I'll be working but you all know I've scheduled things so well that I'll be making a pit stop or 2 for yarn. I've wanted to go there for years! Oh, and we will be raising $400,000 for the Foundation I work for. Did I mention I'm the only employee?!?
Did I mention I'll be ALL ALONE for the first night of trip? No listening to the phone ring 50 times a night and it is never for me. No little paws under the door when I'm trying to pee, no yelling "moooommmmm" from across the house. But...no Brian either. Yes, I know I'll miss them all. Well, except the paws under the bathroom door.
Posted by Heather at 9:15 AM