Meet Luna
I'm still trying to catch up from working more hours than I want to think about and being gone or brain dead for 10 days.
In the meantime, say hello to the newest member of our
zoo
family. This is Luna and she is a Desert Tortoise that we found on our driveway on the full moon. Come to find out, our neighbors have 2 and they had babies that escaped. She is just a baby hatchling and we love her! She is just so funny to watch.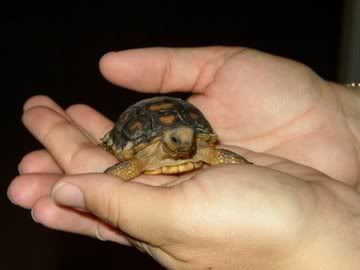 I'm amazed at how much she eats and how active she is. We have to be very careful with her around the cats because they think she is dinner. She spends the daytime in the grass in the backyard protected by a special cage Brian made for her and the night in the garage in a tank. Once she is around 1, she will live in the backyard.
Alison, this story is for you. Baseball Star has been quite the, well, pain in the ass. He is challenging every single freaking thing lately and it is getting quite old. Bedtime, chores, school, rules, eating, brushing his teeth...you name it. Lately, he hasn't been getting up on time and barely makes the bus. Last year we went through the same thing and he missed it several times. So, he was told that if he missed the bus, he was walking the 2.6 miles to school. Yesterday he takes his sweet time getting up and getting ready. And misses the bus. As he was walking to school, he probably walked as slow as he possibly could without crawling. Oh, and we obviously needed a pack of gum and energy drink from the corner store for that long walk. Making him miss first period. He can't seem to understand why he is grounded. Again. His brilliant theory? "I was already late, what is the big deal if I were more late?" I think I'm going to need electric shock therapy to get through the next 3 years.
Posted by Heather at 8:36 AM