I might be pushing it...
But it has been a good night. The Star is behaving (because he is grounded for life) and the Princess, well...is better.
Knitting/crocheting has been a real luxury lately. No time and when I do, I'm so brain dead I just ::gasp:: don't feel like knitting. I know, someone check my temperature. I've been working on a project for SWTC with no end in sight. It's kind of boring and there are millions of ends to work in - something I totally hate doing. But, I have made progress on a few projects. Sorry, these aren't the greatest pictures. Had to take them at night on my bed.
A
Baby Bolero
for my niece, Rylee. I'm making mine out of Plymouth Dreambaby Kokonut DK. I really love this pattern and the sweater is just adorable. Quick to knit, too.
A lonely sock. I think I'm going to have to frog the toe and add just a couple more rows for wiggle room.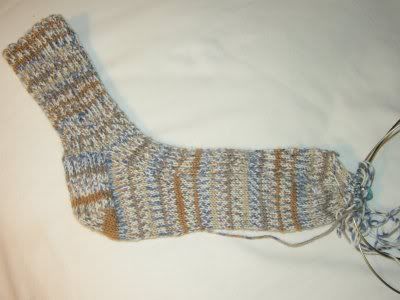 Good progress on Charlotte. Don't tell her she is getting boring. And what is
demon cat
Tigger doing, you ask? Chewing on the point protector. Moron.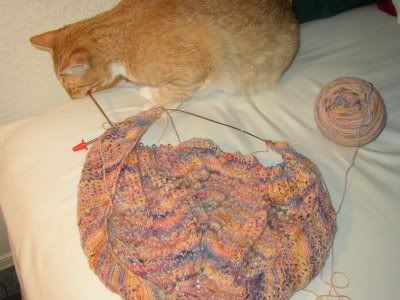 I'd like to finish something before I start another project. Another shawl?
The teenagers are off to bed. It might be a miracle that we made it through the night without a meltdown. Miracles do happen.
Posted by Heather at 9:19 PM